With polls opening this Monday, the 8th of October, we have gotten endorsements from local orgs like BiPol, the first and oldest bisexual political organization based in the Bay Area gave our campaign it's sole endorsement, statewide organizations like Evolve California, which works to increase education funding and to reform Proposition 13 through closing the corporate tax loophole, and national organizations like Trans United Fund, which is committed to building the political power of trans and gender expansive communities across the nation.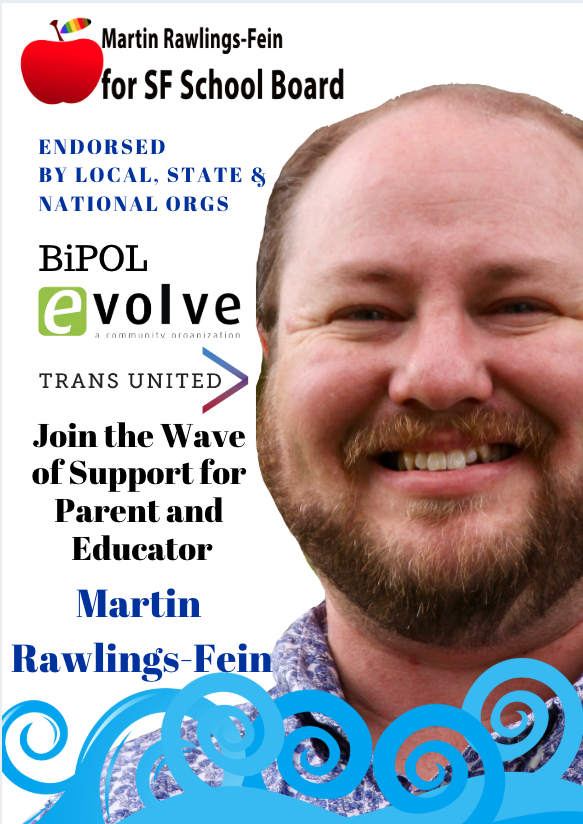 The San Francisco November 2018 Voter Information Pamphlet is online NOW! I am on page 47, and I feel pretty awesome about being myself without pretense. As a parent and educator I always want to be a role model for my kids. I pick up my son after school every day, I go to my daughter's softball games, and we try to have dinner at the family table even with PTA and committee meetings.
These are things that working families deal with every day in San Francisco. How to schedule our lives around school drop-off and pick up times, sports games, and no matter what a school calls parent boards there will always be committee meetings. As I say in my statement, "I'll bring my whole self to the challenges and opportunities around the assignment process, affordable housing, and supporting healthy school communities for all students." This isn't just printing on a page, because words still matter to our families, and we need people like myself to step up to the challenge. 
With just over a month left in this election please join the wave of support for my campaign by donating whatever you can to help from $25 to $500, sponsor a house party, fundraising event, or volunteer for the campaign in another way. We need transparent leadership, people who see problems, and find the way to fix them in new and innovative ways. For more information about my campaign visit my site, and you can also keep up with us on Twitter or Facebook.
With appreciation,
Martin Rawlings-Fein

MARTIN RAWLINGS-FEIN FOR SCHOOL BOARD 2018
http://www.martinrawlings-fein.com/
Do you like this post?